Tokyo Residence
Gwenael Nicolas reinterpreted his design to his own residence in the center of Tokyo.
"Living in Tokyo, a city that is always shifting and travelling regularly, I wanted to conceive a retreat that felt timeless and in a way almost pristine. A place of harmony and serenity created by the alternation of contradictory elements and emotions.
This apartment was designed using contrasted materials, shape and volumes, primitive but refined, brightness and softness, a dialogue with darkness and materiality.
Space is really scarce in Tokyo interiors. The challenge was to alter its perception, opening the space and twist it , to reveal a different dimension and an unique composition."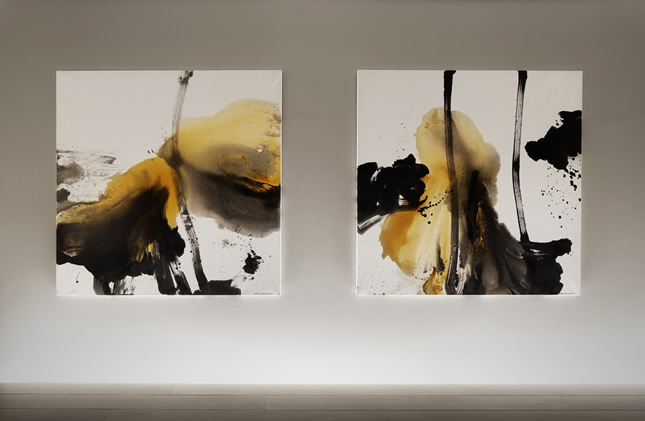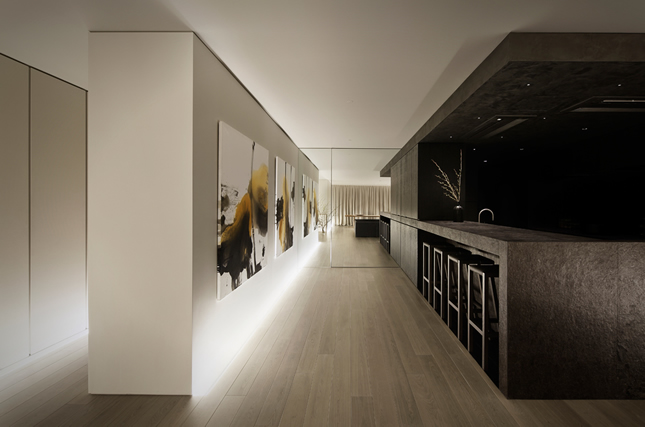 The entrance door is hidden by a large mirrored sliding door, that reflects the entire apartment, the monolith kitchen spread through the mirror, its massive black mass seems floating between two spaces.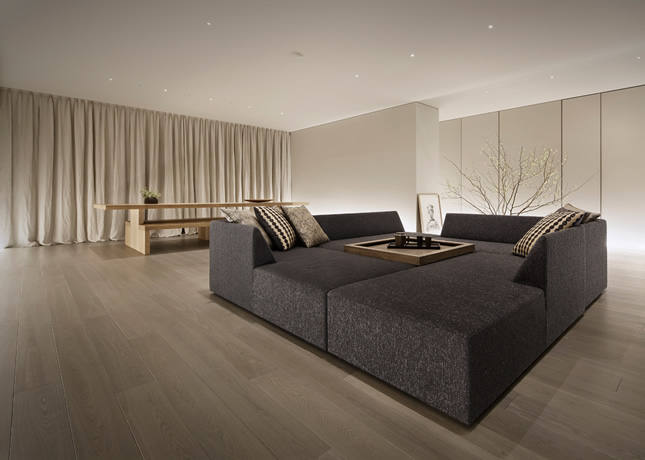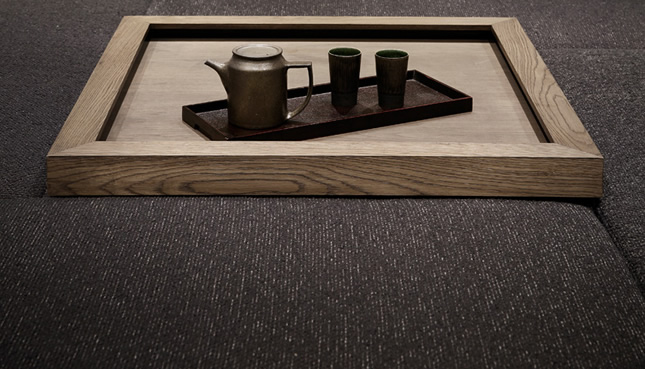 The living room is arranged around a pool sofa, an original design inspired by a tatami room: an area within the house where the family gathers as an intimate space.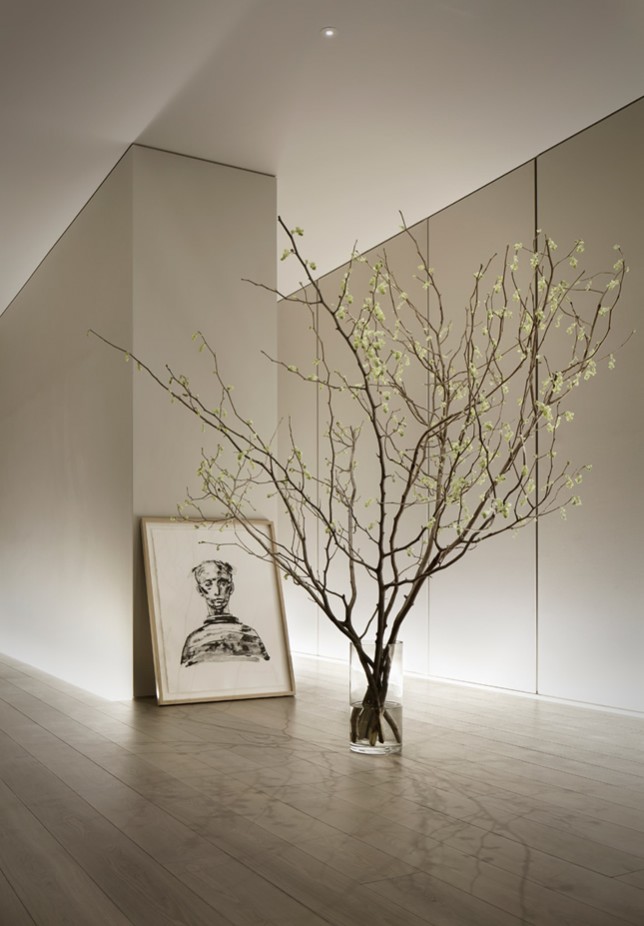 The rooms are delicately defined by a gleam of light, a thin ray surrounds the floor/wall border. The grey color of the wall and ceiling minimizes the effect of shadow and erases the contrast in the volumes, as the space blends, contrasted by the immobile volume of the black stone kitchen.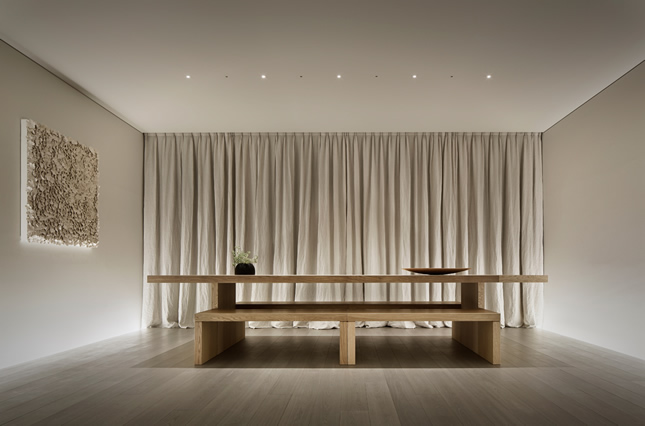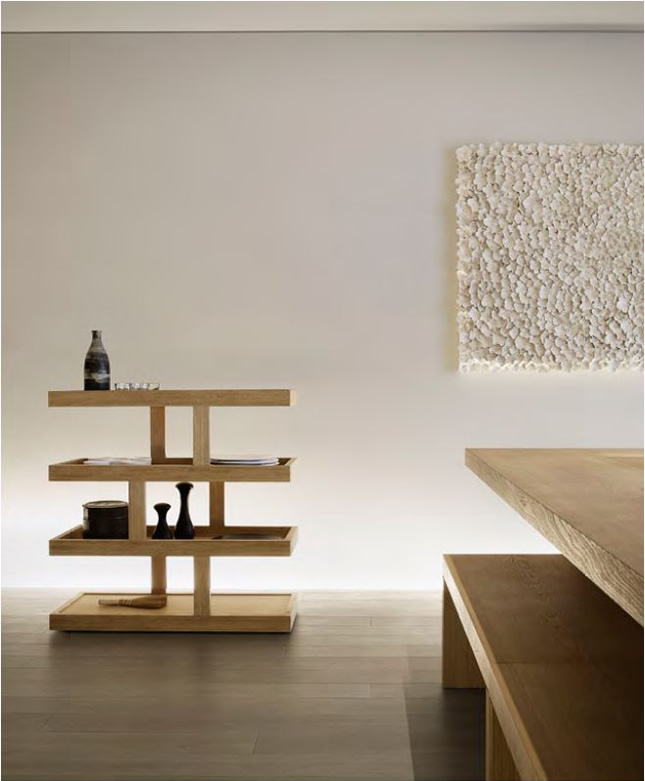 The long oak table and benches were originally designed for the apartment, the primeval shape can also be found in the design of the wagon, a sculptural wood object used to carry meal and utensils to the table.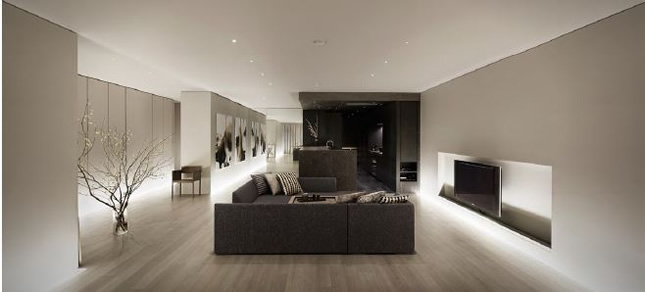 Materials were selected to emphasis the presence and character of each area. The dark kitchen in hammered granite, is an invitation for culinary experiments.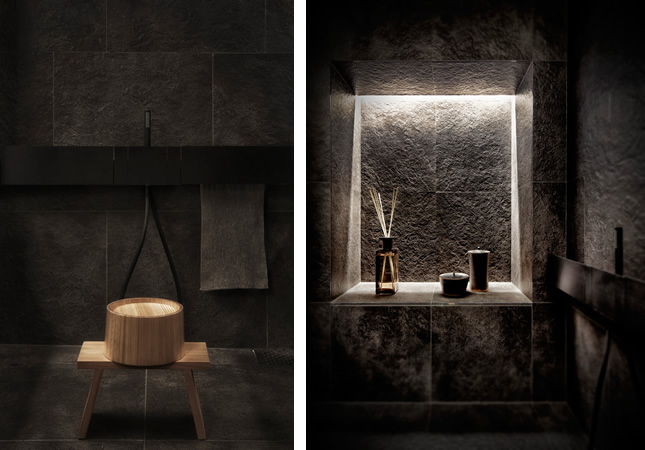 The bathroom has become a mediation room. Inspired by the souvenir of a moment in an outside Japanese bath the archetypes of the bath disappear thanks to the Sen tap created with Agape, a single black aluminum line contrast the rough stone wall. Only the traditional wood bench and basin remind of the functionality of the room. It has a primitive and mysterious feel.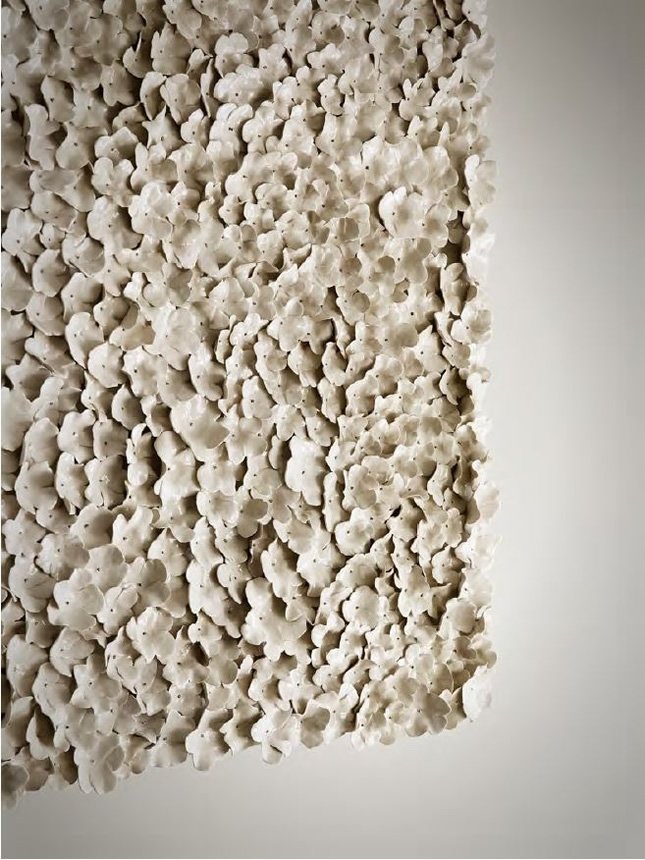 The silky interior becomes a canvas for eclectic objects and art pieces: the theme of abstract flowers inspire the selection of the pieces like an inner garden: a vertical ceramic flowers by Catia Pessoa, a lotus paint by Cheng Jiang Hong, a portrait by Katsura Funakoshi.
Photography: Satoshi Shigeta
http://curiosity.jp/en